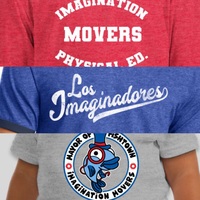 NEW ORLEANS - The Imagination Movers are proud to unveil a new pop-up T-shirt collection - dubbed the Q Collection - in the official Movers website store.
Named in honor of the world's current "quarantine" lifestyle, the limited-edition Q Collection features three awesome new designs:

1) Los Imaginadores
2) Physical Ed
3) Mayor of Fishtown
Each new official Movers shirt explores a different facet of the Movers' universe. A portion of the profits from each design will go to an appropriate nonprofit.

"Los Imaginadores" is the name of the Movers' Disney+ television show when translated into Spanish. The shirt that bears the same name is a tribute to the band's many Spanish-speaking fans in Europe and Latin America, where the series has always been a hit. A portion of the proceeds from the sale of this shirt will go to the Hispanic Federation, which has earned a four-star rating from Charity Navigator six years in a row.
The Beastie Boys-inspired Imagination Movers Physical Ed red tee recalls Ad Rock's shirt in the 1986 video for "(You Gotta) Fight For Your Right (To Party)." A portion of the profits from this design will go to MusiCares, an outstanding nonprofit providing a safety net of critical assistance for people in the music industry in times of need. MusiCares helped the Movers replenish all their lost music instruments after Katrina.

The Mayor of Fishtown shirt is inspired by the obscure bonus track of the same name from the Movers' 2005 indie album "Eight Feet." The goofy 34-second song describes the fictional mayor of a fictional town that sounds like it's probably located next door to a certain "Octopus's Garden." Now the mayor has been illustrated for the first time - and he's sporting a very jaunty monocle and top hat. HeadCount, a non-partisan organization that uses the power of music to register voters and promote participation in democracy, is the beneficiary of this design.

For the next 72-hours - Buy all 3 shirts from the Q Collection OR spend $75 and receive FREE domestic shipping. These designs are for a limited-time only. Don't miss this opportunity.