Volatile Skateboards has teamed up with the Imagination Movers to bring you the first officially licensed skateboard deck. Made from 100% Canadian maple. The boards are available in 3 sizes: 8.0 - 8.25 - 8.5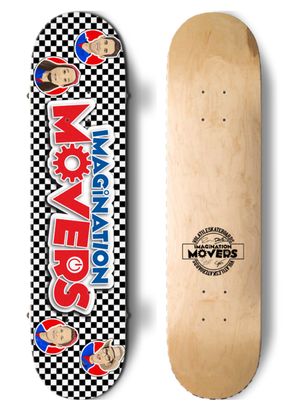 The design appeals to Mover fans & Thrashers, young and old. 
Boarders will be stoked by the black and white-checkered pattern adorning their future ride. Very Movers ska! Plus, there are gnarly cartoon bigheads of each Mover. Rich, Scott, Dave, & Smitty have even signed their names. 
Available as a deck or a complete skateboard.

Note: Pre-orders for complete skateboards come with a <1-minute personalized video shout out from a Mover of choice. All pre-orders will also receive a code to redeem for 12 unreleased Mover tracks.
Don't miss out - put your brain bucket on and catch some air with this one-of-a-kind Mvr sk8board.
Pre-order yours NOW.